Dane County Area's
Top Rated
Roof Cleaning
Add Value to Your Home with Roof Cleaning in Madison WI
Your home is understandably one of the most valuable things you own, so you most certainly want to do all you can to keep it well maintained and looking its best. Roof cleaning is a significant aspect of this cleaning and maintenance, and at TKS Exterior Cleaning Inc, we can help you look after your roof with ease. We offer high-quality roof cleaning in Madison WI that will instantly improve your home's appeal, add value to your property, and make you feel proud of where you live. Let us do the hard work, the dirty work, and the dangerous work so that you can reap the benefits with the least amount of stress possible.
Our Madison Roof Cleaning Services
Click A Box To Learn More About Each Service
The safest roof cleaning in Madison WI
Unfortunately, not every company is up to scratch when it comes to certain safety aspects of this type of work. For example, some companies use the wrong cleaning techniques, such as high-pressure water or harmful cleaning chemicals. Either of these mistakes can cause serious damage to your property and stress for you. However, at TKS Exterior Cleaning Inc, we guarantee safe roof cleaning in Madison WI, for everyone. Unlike these companies, we use soft washing and eco-friendly cleaning agents. The low-pressure water and harmless solutions give high-quality results with zero chance of damage.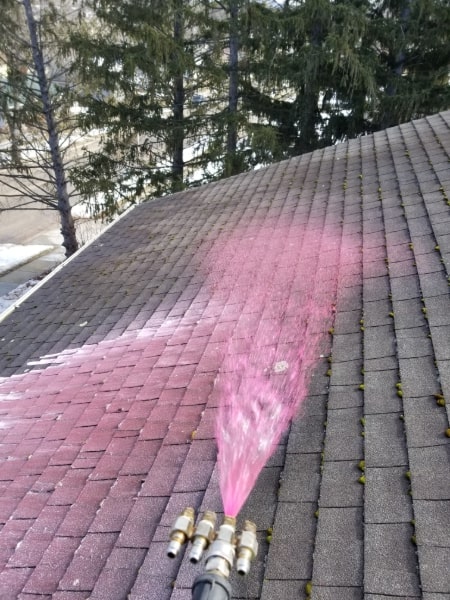 Restore Your Property Instantly!
We're Comitted To Your Happiness
Super Awesome benefits for you to enjoy...
Real Roof Washing Reviews From Happy Customers
WHAT Your
Neighbors
ARE SAYING
Roof Cleaning Madison
TKS Roof Cleaning did a great job removing moss and dark streaks appearing on my roof. The entire process was easy, transparent and the crew from TKS Roof Cleaning did a fantastic job.

Dan Rosetta
Roof Cleaning Madison WI
We used TKS for our partial roof cleaning and washing of the siding of our whole house. We were very pleased in meeting with Tim from TKS in person before we committed to the job. Since it is our first time power washing this large of a home, Tim did spend quality time explaining answers to all of our questions. We did feel very confident once he left. Communication was very good upon meeting throughout finish of the power washing job. We are very pleased overall with his employees and the job is well done. We will use Tim for our maintenance of the home in years to come. Great job TKS!

Mike Hueppchen
Roof Cleaning In Madison WI
TKS Roof cleaning did a good job on our metal shed and did our roof, which is growing algae. We have to wait for that to be gone. Our gutters have guards that have been on a long time and it was good to know they have been working well. Very satisfied.

Mary Gilbertson Benisch
Frequently Asked Madison
Roof Cleaning Questions
Our Core Exterior Cleaning Services
Ready To Restore Your Roof?